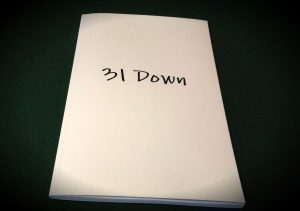 Self-published lyric booklet includes the best of lyrics published here between 2014 and 2017, as well as a few extras. So-titled because it was to include 31 song lyrics conceived in my first 31 years of life. As it happens, it includes 32 song lyrics. I don't know why. As written, lyrics do not include music. Contrary to popular assumption, the booklet has nothing to do with crossword puzzles.
The booklet is slim, 70 pages or so, perfect bound, 8.5 inches by 5.5 inches. There's a little more info here.
I only keep a few of these on hand at a given time. When I have them, they can be had for $10 postpaid to anywhere in the continental United States.